Cornell Induced Pluripotent Stem Cell Core Laboratory


About the iPS Cell Core

Established in August 2009, the Induced Pluripotent Stem Cell Core Laboratory (iPS Core) is located in the Veterinary Research Tower T9-010, and is part of the NYSTEM funded Mammalian Cell Reprogramming Core. Since the discovery of iPS technology (1), there has been a great deal of interest in the use of iPS cells as a source of stem cells for clinical therapy in a variety of animal models, and as a tool for understanding the maintenance of the pluripotent state and mechanisms of differentiation. There are, however, significant barriers to entry in stem cell culture, necessitating the establishment of a core facility which can perform services for researchers from different disciplines while minimizing variance and maintaining a level of quality control which is necessary for the successful culture and maintenance of stem cells.

The goal of the iPS Core is to provide researchers within the Cornell Community and the field with a resource for the generation and utilization of ES and iPS cells. To this end the iPS Core offers services on a partial cost recovery basis including the generation of iPS cells from somatic cells, established iPS cell lines, and a variety of services related to the characterization of the pluripotent state. Additionally, the core is actively pursuing non-integrating reprogramming methods and the creation of human, canine and equine iPS cell lines. Finally, the core provides microinjection services for the production of chimeric mice from ES and iPS cells.

Contact the iPS Core for more information
.
Reprogramming
At this time, the iPS Core employs both lentiviral (2) and transposon mediated (3) transduction methods which can be used to routinely reprogram mouse embryonic fibroblasts (MEFs) and tail tip fibroblasts to a stem cell like stat by over expressing Oct 4, Sox 2, Klf 4 and c-Myc. Using these methods, colonies of cells exhibiting stem cell like properties can be produced in as little as 2 weeks. These cells can be expanded into cell lines that maintain these attributes and display endogenous expression of pluripotency factors even after the cessation of transgene induction. In addition to lentiviral and piggyBac transduction, the iPS Core is interested in optimizing other methods of reprogramming as well, including adenoviral methods (4), transient plasmid transfection (5), and direct delivery of synthetic mRNAs (6).

Back to the top.

ES and iPS Cell Culture
Culturing and maintaining ES and iPS cells requires a considerable commitment of time and resources which may represent a significant challenge to researchers interested in utilizing ES and iPS cells in their experiments. The iPS Core routinely maintains ES, iPS, and other mammalian cell lines in culture, and is uniquely positioned to assist researchers by serving as both a practical and educational resource for tissue culture. At this time the iPS Core provides training in various techniques, as well as murine embryonic fibroblasts, tail tip fibroblasts, iPS and ES cell lines, and is working towards becoming an established source for canine, equine and human derived cell lines.

Characterization and Differentiation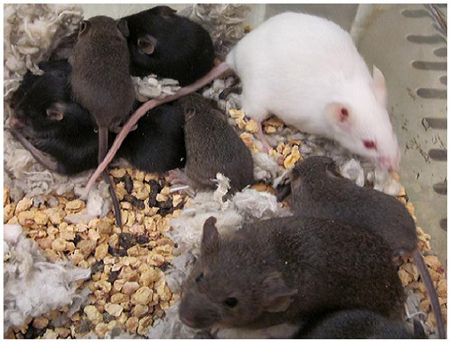 Germline transmission in mice prepared from iPS cells at the Cornell iPS Cell Core Laboratory. Near 100% chimeric male mouse generated from B6x129 iPS cells (lower right ), female mouse (upper right , white) and their pups (upper left).
True ES cells and completely reprogrammed iPS cells are capable of differentiating into tissues of all three germ lineages (i.e. ectoderm, mesoderm, and endoderm). Validating the pluripotent state, however, is a daunting task requiring numerous assays. One goal of the iPS Core is to establish methods to evaluate the potential of iPS cells, and determine how they compare to true ES cells. To accomplish this, directed in-vitro differentiation and a variety of protein and gene expression assays can be used to determine the potential of iPS cells. In addition, the iPS core has validated iPS lines by teratoma formation in SCID mice, and iPS lines generated in the core have been used to generate adult germline chimeras.
Current Products and Services

Customers can download a full list of services currently available here. iPS Core Order Form
Primary Cells, Validated iPS Lines and Irradiated Feeders
The iPS Core offers mouse embryonic fibroblasts, tail tip fibroblasts, irradiated feeders, iPS cells and reprogramming vectors.
Mouse Embryonic Fibroblasts
Mouse Tail Tip Fibroblasts
Irradiated Feeders
iPS Line 1-A4
Reprogramming Vectors / Custom Vectors

Reprogramming and ES Culture Services
The iPS Core can reprogram your MEFs or tail tip fibroblasts to iPS cells. Validation can be performed as an additional service.
Reprogramming
ES Cell Culture

Validation / Characterization Services
AP Staining
Karyotype Analysis
Embryoid Body Formation
Teratoma Formation

Transgenics Services / Microinjection
Gene Targeting
ES Cell Microinjection
Cryopreservation of Mouse Sperm
In Vitro Fertilization
Rederivation of Mice
Pronuclear Injection
Recovery of Frozen Mouse Embryos

Contact Information

Christian Abratte
Research Support Specialist
Induced Pluripotent Stem Cell Core Laboratory
Veterinary Research Tower T9-010
Telephone: (607) 253-4189
Email: ca258@cornell.edu